The Scenic Route | A review of the Fujifilm X-T1
I can be a mighty stubborn guy. You see, I have this very clear conception of the X Series cameras, one that's severely tainted by my initial experiences with the original X100 and the reasons why I first became interested. Sometimes when I'm in a rut or feel myself wavering creatively, I'll go back and watch the insane japanese commercial I've embedded next to this paragraph.
Yes it's raw and yes, it's dark and mildly disturbing… But it encapsulates a certain ethos I've come to associate with these cameras: a grittiness of spirit, a spy's point of view, lurking in the shadows, watching the drama of life unfold. The first schematics I saw for what was to become the X-T1 challenged this conception: a pentaprism-like hump? An SLR design? Stacked dials and buttons galore? Where was the innocuous rangefinder footprint, the misleading simplicity of the X Series?
Well, not to worry young Jedis: the Force is still strong with this one.
Most reviews so far have had two things in common: 1) they pretty much consider the camera a slam dunk and 2) they see it as the Nikon DF done right. Hell, it's even sparked a fictitious recall from Nikon (!). The comparison was unavoidable given the two camera's similar directions, but what sets Fuji apart is their melding of past and future: yes, the X-T1 heralds back to classic film SLRs in terms of layout and controls; but it also pushes the envelope yet again, thinking outside the box with a stunning EVF incorporating a new, beautiful UI along with some clever new twists. Like all the high end bodies in the X Series it doesn't merely wrap itself in retro-chic; style always follows function.
And it shoots video.
Just sayin'... ;)
All the Newness
I'm not a camera reviewer, I'm a photographer and Fuji shooter. So my main concern these days when a new X camera comes along isn't how it stacks up against the competition, but how it fits in with the rest of the lineup. On paper the X-T1 certainly ticks all the right boxes: the huge EVF, faster performance, rotating UI, front and rear dials, support for UHS II SD cards, weather proofing, six configurable fn buttons… And a side loading SD slot finally allowing access to the card without first having to remove the camera when it's on a tripod.
But while I can fall in love with lenses really quickly (some of them have me at hello), bodies are a different matter and it always takes at least a few days to know if something works for me or not. In most cases my initial impressions tend towards the negative as I question every single aspect of the camera; this one was no exception. Especially since I picked it up with two things in mind: could it become my main work camera, pushing aside the X-Pro1, and would it retain the non-threatening, discreet profile of the previous X-Series models.
My very first impression was that it was smaller than I would've liked. In reality it's just slightly shorter than the X-Pro1 but I've grown accustomed to the size of that camera and with most lenses, it feels exactly right. The other thing I noticed immediately were the buttons: they're much more recessed than what I'm used to. In my opinion, too recessed. It's a niggle and certainly not a deal breaker but again, as far as I'm concerned the X-Pro1 should be the template for all the other top X Series models — It's the only one in the lineup sporting buttons that feel absolutely perfect, much sturdier than those of its siblings and with just the right amount of protrusion.
So I was puzzled and — admittedly — a tiny bit disappointed. Until that is, I caught sight of the view…
Blown. Away.
Guys, this EVF is something to behold. And looking through it is one of those crap, I can't go back moments. The problem with this viewfinder is how it totally spoils you: switching back to the other bodies is like moving from a loft overlooking Manhattan to a 1 bedroom in Omaha facing a brick wall. I ain't kidding. In AF there are two viewing modes: Full and Normal. Full uses the entire EVF screen from edge to edge and is simply breathtaking. It's like being at the movies. When using manual focus a third option becomes available, splitting the screen between the full image and a smaller zoomed in view. It's a very interesting concept that could only work with an EVF of this size — on smaller screens the zoomed view would probably become much too tiny to be of any use.
Of course in terms of new features, the spotlight is shared by the added dials on top of the camera: ISO and DRIVE dials take up the left side while a new METERING ring sits beneath the SHUTTER dial on the right. I like this. A lot. Switching to spot metering is now just a quick flick of the finger away and my reflexes are already getting accustomed to this ability, although again I feel these new controls would've gained from the camera being slightly larger than it is. This is especially true of the fn button between the Exp. Comp and Shutter dials: even my rather small fingers can hardly fit in to press it — Fuji's designers must've been aware of this, as they chose to assign it to WiFi by default; not something you'll be using while shooting.
The grip is also quite different from other X cameras and for the better: its depth makes it feel very secure when holding it with one hand. They've also added a much more prominent thumb rest at the back that strengthens this even further.
Like the X-E2 before it, this camera also includes wireless functionality. I had secretly been harboring high hopes for the WiFi capabilities of the X-T1, namely as a possible replacement for the Eye-Fi card I've been using to shoot "tethered". Unfortunately, while much improved the WiFi features still don't support sending files to a computer while shooting — you're either using WiFi to send files or you're shooting. But: when using the new camera remote app you CAN in fact receive the images as you shoot, either on an iOS or an Android device. This opens up possibilities, providing you don't mind using an external device to act as both trigger and viewfinder. I'll have more on this in another post soon, using an iPad Air as the remote control/viewing station. It's not what I had hoped but it IS interesting and quite usable. And I don't see why this feature couldn't be improved upon through eventual firmware updates.
Low Rider
So what about the footprint? Is the X-T1 in line with the rest of the X Series? Absolutely. And I'm surprised because I had feared the form factor and central viewfinder would take away from the experience, perhaps even affecting other people's perception… I don't believe it does. This obviously isn't the X100S but then neither is the X-Pro1. It feels like an X camera through and through, regardless of the move away from a rangefinder design.
As to bumping the X-Pro1 to 2nd place: it's a very personal decision based on my current needs. Right now I'm happily shooting an original X100 alongside an X-Pro1; adding the X-T1 will give me two fantastic XF compatible bodies, one with an optical VF, the other with an ocean view (!)… This feels totally right. The speed of this new camera will be quite welcome as will the added performance boost to existing lenses (it did make a difference in a couple of tests I performed). Plus I'll be getting 2nd gen X Trans tech, including the LMO (yes, this only affects JPEGs but as you know if you follow this blog, I have no qualms about shooting JPEG with these cameras). The X-T1 also works with a brand new vertical grip that doubles the camera's battery capacity — Nothing to sneeze at.
So when I add everything up, from small details to bigger features, it becomes a no brainer. New possibilities, more control options, faster processor and AF… Done deal. Even I will admit the tilting screen will come in handy. And as with the X100 and X-Pro1 before it, this camera has grown on me substantially during the short time I've had the pleasure of shooting with it… To the point where the size concerns have become secondary and I'm looking forward to getting my own as soon as possible.
The request
I had a girlfriend way back when who used to always leave one plate or utensil at the bottom of the sink when doing dishes, just for the sake of balance, of keeping the world just a teeny bit less than perfect. Sometimes I have to wonder if Fuji doesn't embrace that same philosophy... There always seems to be one little tidbit that, while not the end of the world, still gnaws at you constantly because you know it's fixable. And to their credit it usually does end up getting fixed. On the X-Pro1 it was Auto ISO (fixed); on the X-E2 the View Mode button or lack thereof (forthcoming, I think). On the X-T1 it's this: the Movie Record button. I don't mind a Movie Record button; I'm sure lots of people will use it. I DO mind that it's hard wired to the best real estate spot on the camera. The spot where ALL the other X bodies have their main fn button, right next to the shutter — Let me show you what I mean: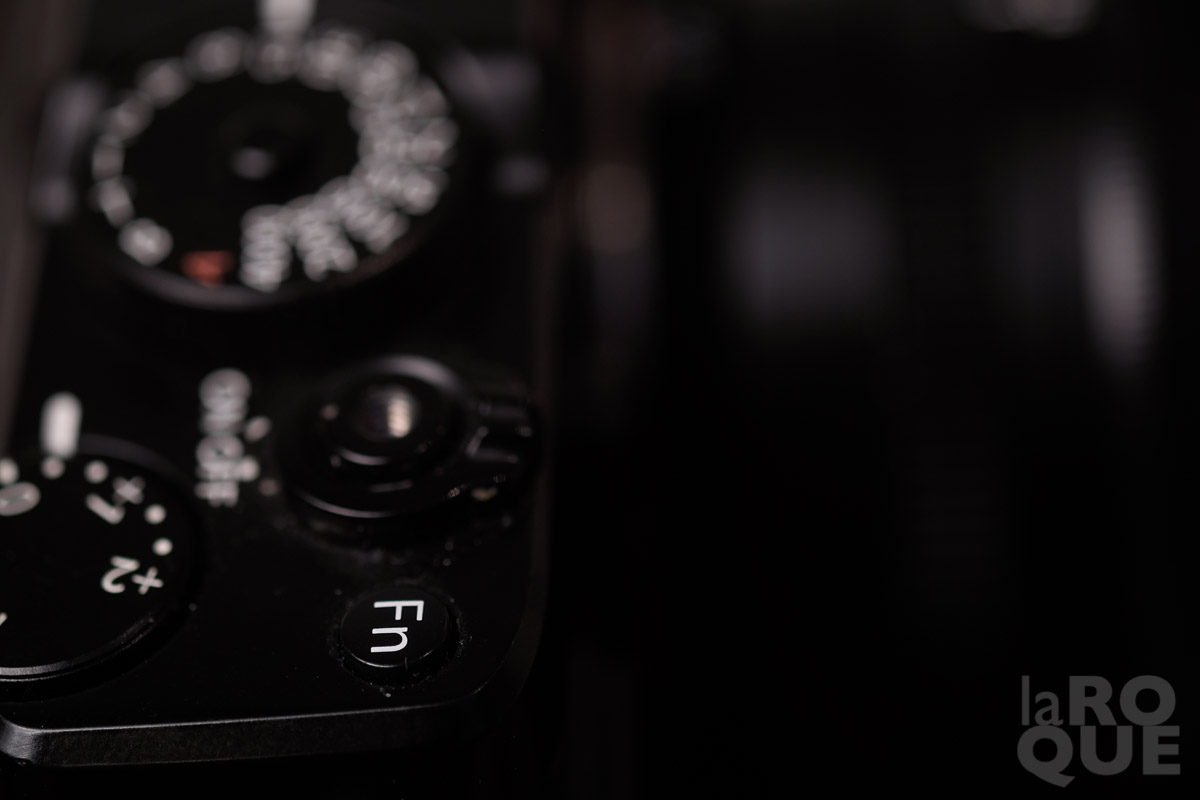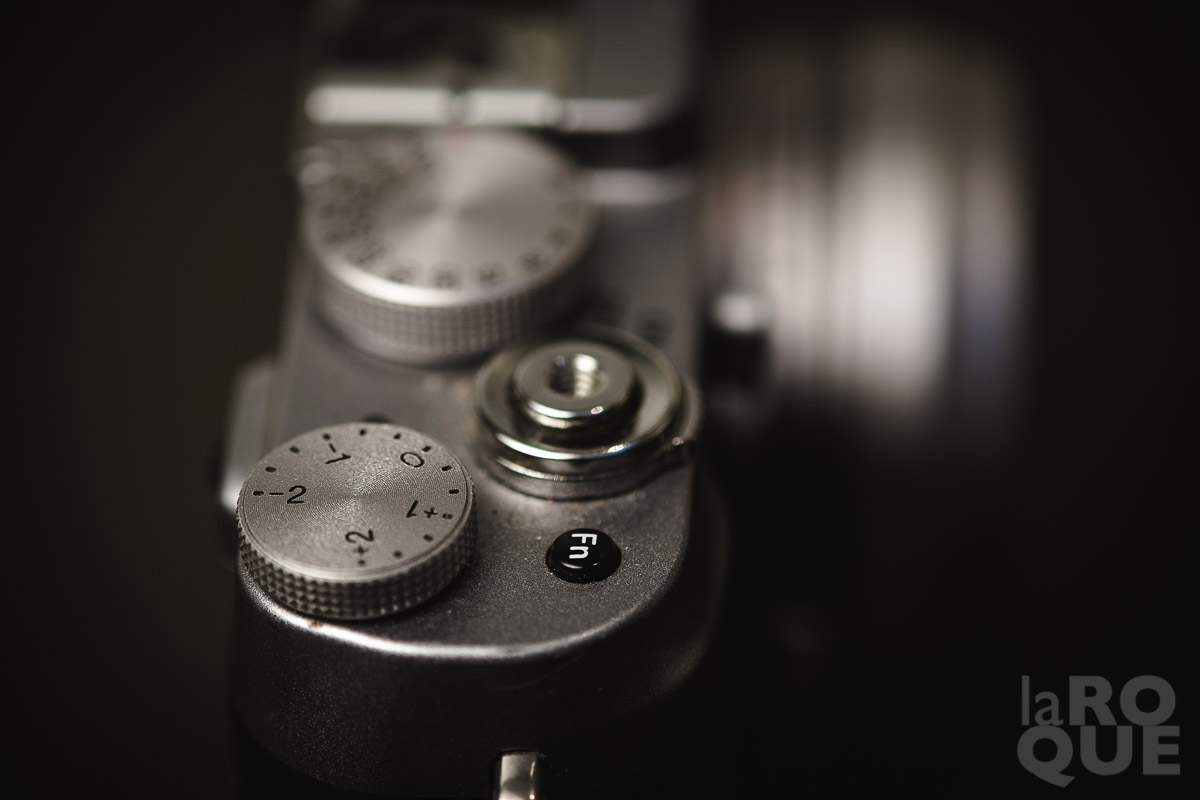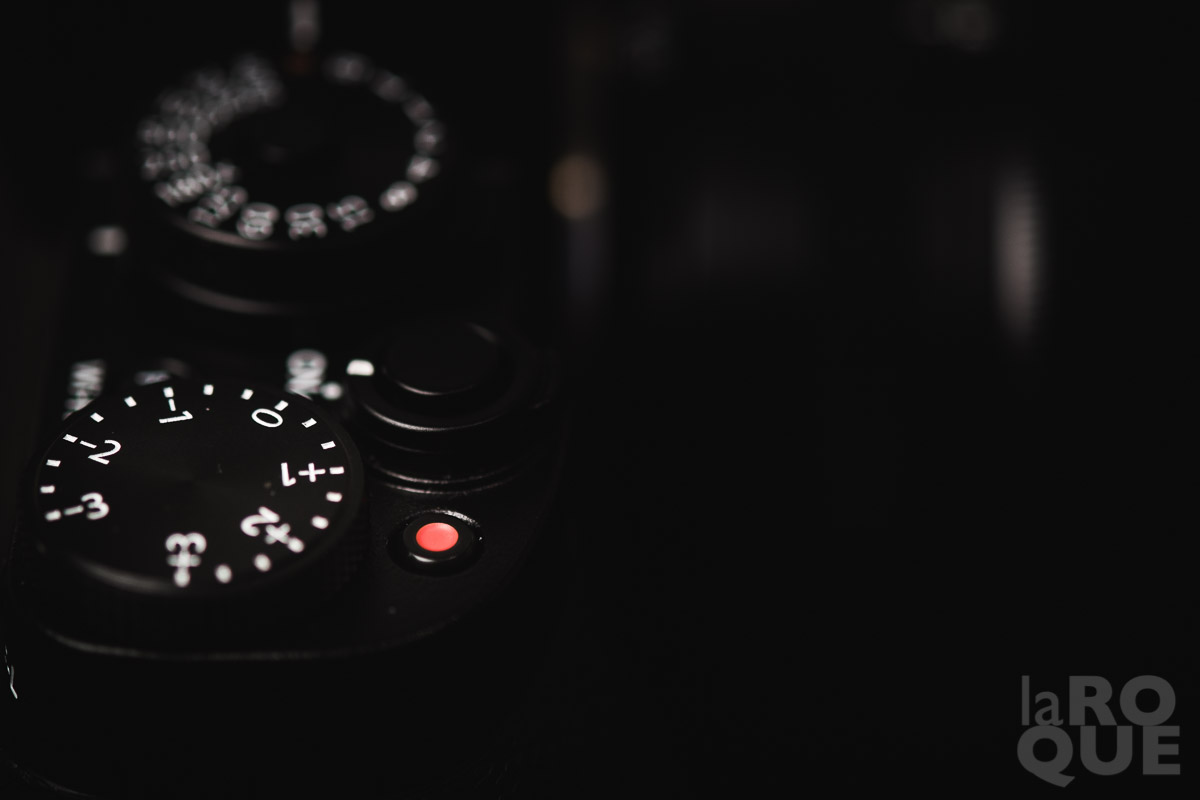 So in the name of consistency here's my one, single request: the X-T1 needs its 7 function buttons accessible as such. Not 6. Movie Record can be added to the list of assignable functions and we can all choose if we need it or not. I don't. But if I ever do, I'm 100% sure I won't assign it to THAT button. Apart from seriously messing with my muscle memory (not great suddenly finding yourself shooting a movie when you wanted to switch focus points), I doubt I'll ever be using video on this camera in a way that warrants having it on the one trigger close to my index finger at all times. I may be wrong but I'm fairly certain this applies to most of this camera's target audience as well.
Conclusion
Ok, there's a bunch of stuff I haven't covered. For instance, even though this camera does include a View Mode button, Fuji has added an additional EVF option that allows you to shoot EVF-only but have playback appear on the back LCD. And the EVF can also be triggered on and off by the eye sensor, conserving battery in the process. Tons and tons of refinements, most of which I'm sure you've already read about elsewhere. So I understand the rave reviews. As reluctant as I initially was when I first saw the prototype, this camera has won me over. It's the highest performing and most customizable X body to date, all of the enhancements adding up to an extremely enjoyable and capable image making machine.
And besides fellow babies*: it's got a view to die for.
More info on the X-T1 here.
* Paging Dr. Johnny Fever. I've always wanted to say "fellow babies".
Below are more posts featuring images shot with the X-T1 in case you missed them. And btw: if you live in Canada, Fujifilm is offering the vertical battery grip for free if you pre-order the camera before March 31st. Pretty great deal I think.