The Razor's Edge (prequel) - Fujinon XF 56mm f/1.2R
When the phone rang a few weeks before Christmas with an offer to do a project with Fujifilm's eagerly anticipated XF 56mm f/1.2 R, I couldn't pass up the opportunity — even if it did mean working in a much different way to what I'm used to. My first post this year about stepping out of our comfort zone was in fact greatly inspired by this recent experience. I can't speak about it yet or show any of the resulting images but I should be able to do so in the next couple of weeks. What I can share however are my other images with this outstanding new lens: it stayed glued to my X-Pro1 for the entire holidays. Some of you may recall I did a six part series when I returned last year called The Holiday Diaries. So I thought I'd do something similar, although less single-minded, a series of short essays all shot with this lens. I think it'll be a more interesting way of showing what this new optic can achieve. I'll be posting the first installment later this week, with subsequent "episodes" every two days until it's done (Update: part 1 is here).
Now, I know a lot of you are probably eager to learn everything there is to learn about this new addition to the XF lineup, so I'm going to do a very short write-up. I'm not calling it a review because 1) as far as IQ is concerned there are only so many ways to say "wow" while remaining credible and 2) I was using a pre-production unit exhibiting a few of the issues these models usually carry, so I can't talk about the actual feel of the final product (but this is par for the course and I've never seen any of these issues make their way into any shipping version — I'm not worried). I'll do a follow-up once I get my hands on the finished product.
THE MYTHICAL ONE
If you step into the way back machine, you may remember the Fujinon XF 56mm was initially announced as an f/1.4 lens — which was nothing to sneer at. In fact, most of us became giddy with excitement at the thought of shooting a fast 85mm equivalent on our Fuji systems. The 60mm was already available (and no slouch) but speed freaks will be speed freaks: seeing the number 1 on an aperture ring is usually enough to send most of us into a credit card frenzy. And then of course f/1.4 became f/1.2. Dear. God.
But we had to wait… And wait we did. Twice (I think?) its estimated release date was pushed back — So when I got my hands on this little gem I had trouble believing it was actually for real. Not only is it real… It's fantastic.
If you're familiar with the XF 23mm f/1.4 (which I reviewed here) you already have a good idea of how this new lens feels: it's very similar in both size and weight, which is no small achievement given its f/1.2 aperture. The only difference is the omission of the distance scale and corresponding push/pull mechanism, something that makes sense given how this lens will mostly be used.
Here's what it looks like on the X-E2: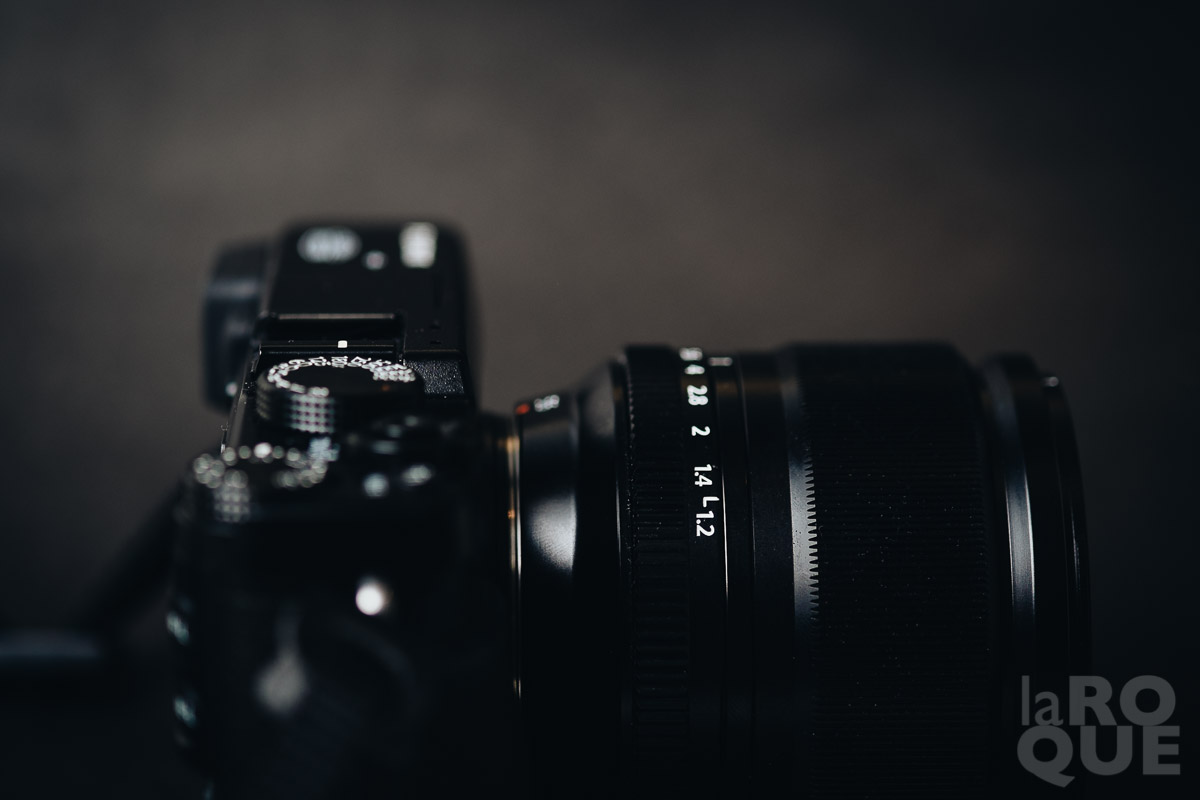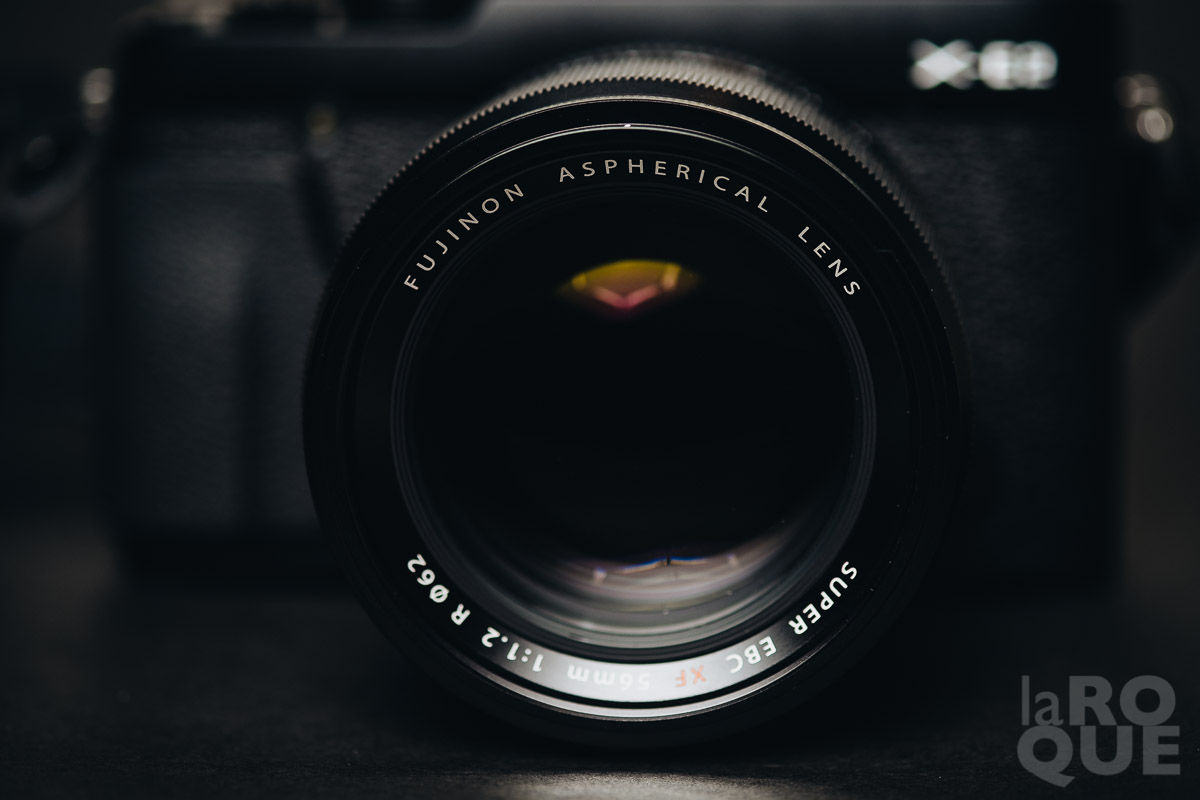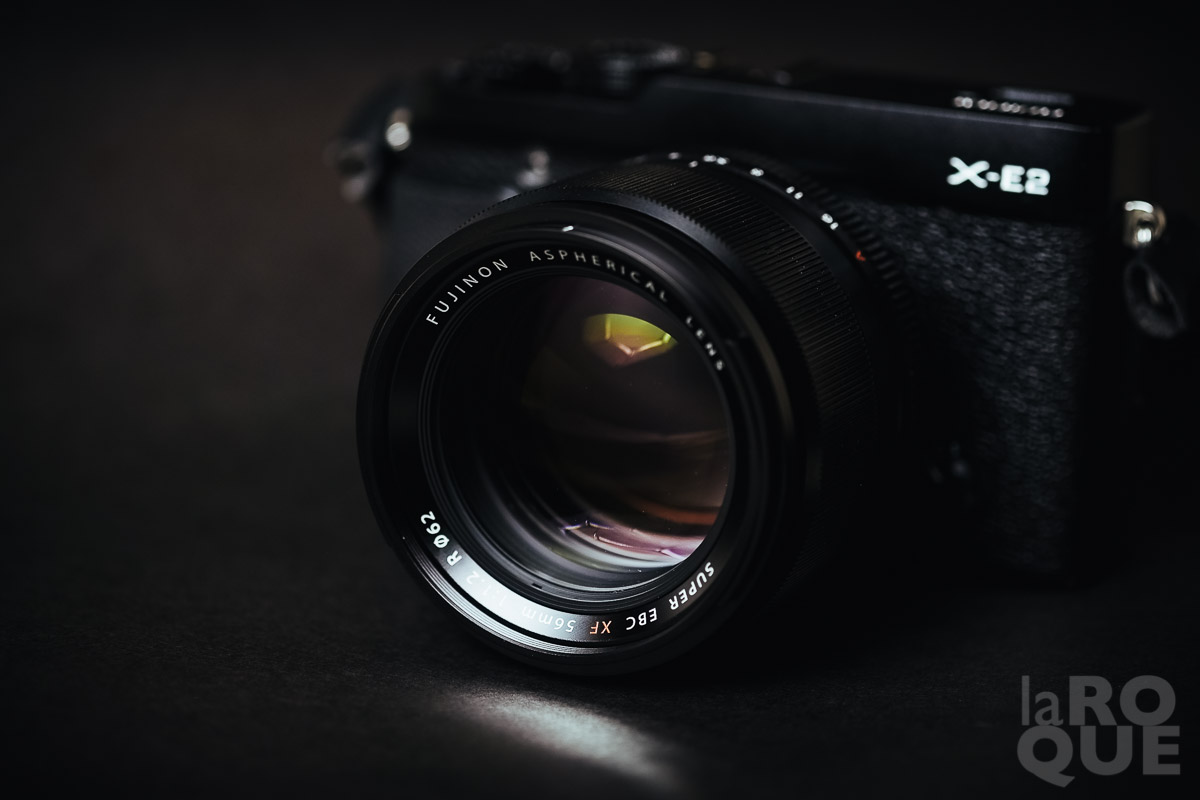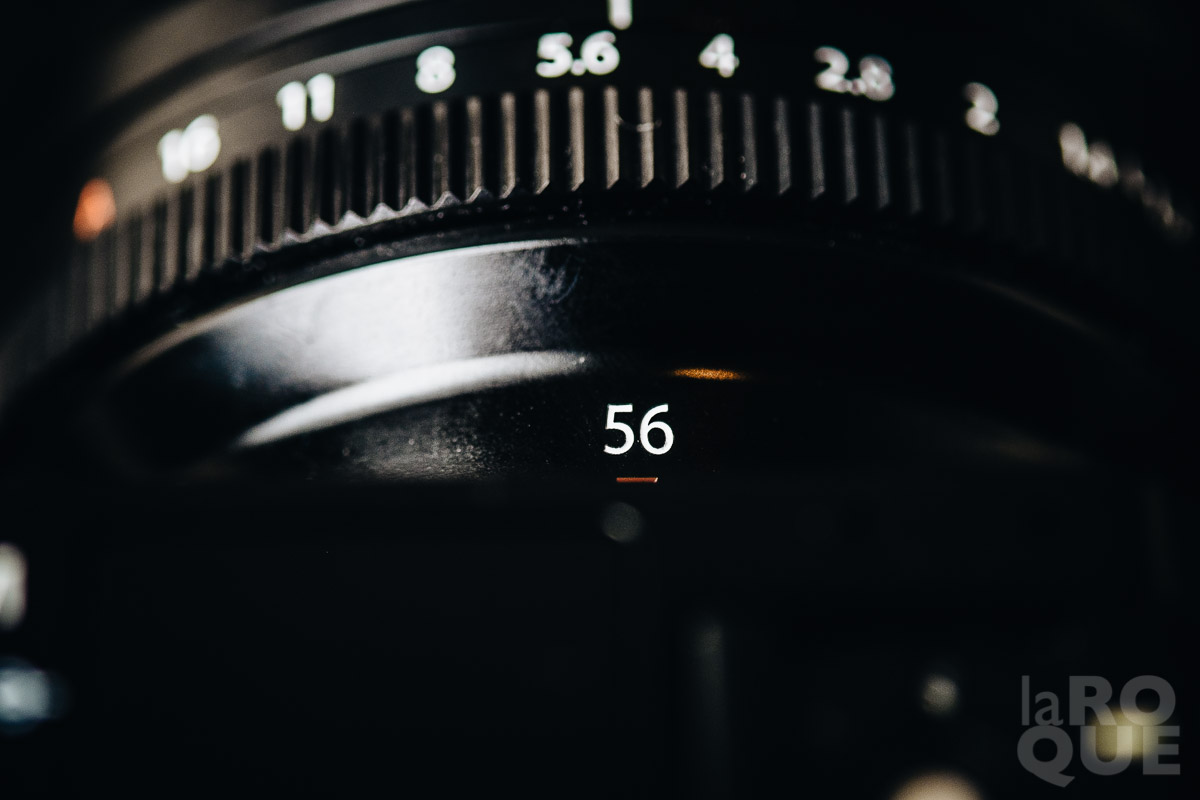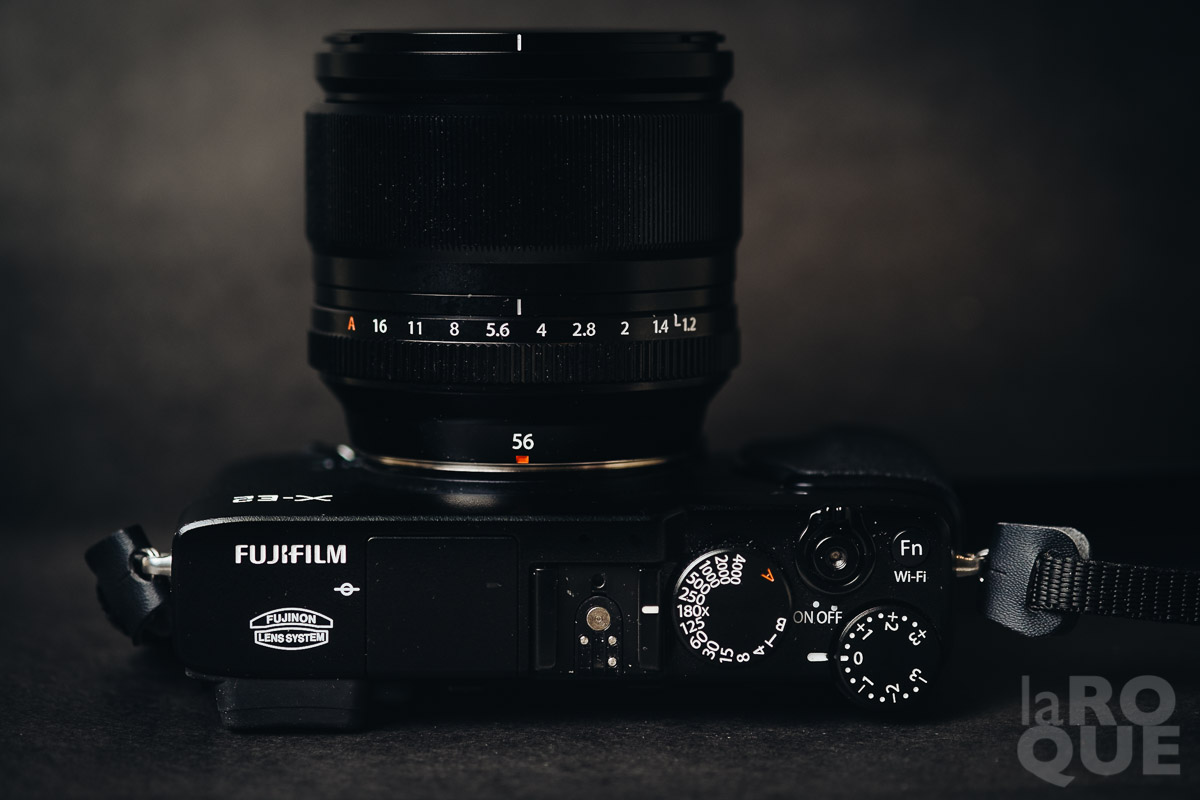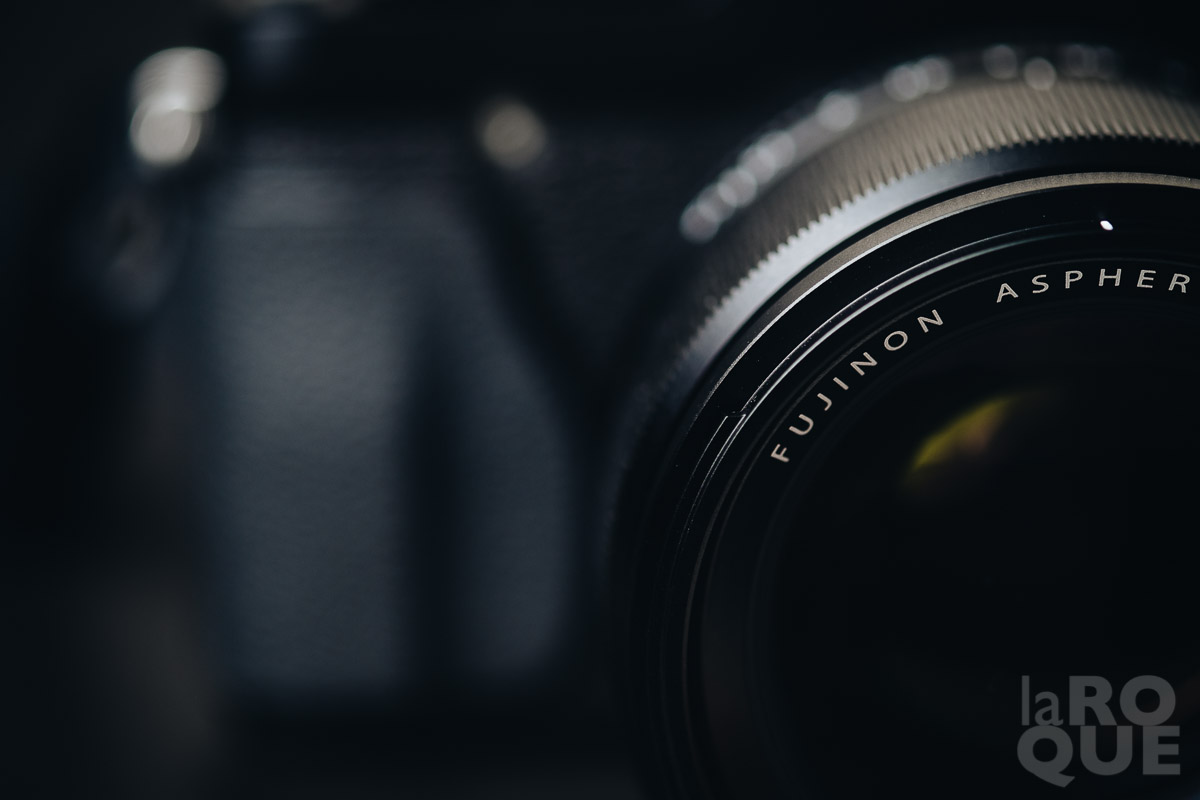 OPTICS
Sharp. This thing is sharp wide open, sharp closed down. I haven't tried but I believe it's probably sharp with the lens cap on — yeah, hyperbole. Seriously, this is Fujifilm's at its best: just like the 23mm, it doesn't disappoint. Minimum focussing distance is a hair over two feet so don't expect to be doing macro work; this is not the XF 60mm (with which I shot all the above lens images btw).
Of course, shooting at f/1.2 is an exercise all on its own: close up we're talking about a plane of focus that's basically half a sliver balanced on a razor's edge. Teeny, weeny. You can get the end of an eyelash in focus while the eye goes soft — which is the whole point really. But it's also stunning at f/8 and I'll be able to show you some examples once the project's embargo has been lifted. For now, here are the very first images I shot with it in the studio, my kids agreeing to let dad have his way for a few short minutes while I gave this baby a spin:
And of course an obligatory sparkling bokeh shot (please don't say it's busy... I was shooting for busy.) :
MORE TK...
It's clear the XF 56mm is going to be marketed as the X-Series portrait lens. It's the traditional focal length and perfectly tailored for the task. But at the time of this writing, it's now also Fuji's fastest XF glass and this opens up a lot of possibilities in my book. We're talking short telephoto here so it's obviously not going to be the lens of choice for sweeping landscapes, but beyond the studio work I needed to do I also experimented using it just like the XF 35mm f/1.4, as a documentary lens, shooting family, indoors, outdoors… My usual personal material. And yes, it's tight. But it's also a devourer of light which is no small feature. I found myself moving back a few steps while shooting but I can't say I was put off by it, even in cramped quarters. So I'm hoping the short stories I'll be posting will give a sense of how this lens can actually be used in a documentary context, on top of its potential as a stellar studio mainstay. As I said, we're talking about a size and weight very close to the 23mm — it's not at all awkward to work with when out and about.
As far as I'm concerned this is a style-defining lens, a huge addition to the X system. And I'm not debating this one: it's my first big purchase of 2014. Period.
The shot below? That was my last big purchase of 2013... More on that as well later.